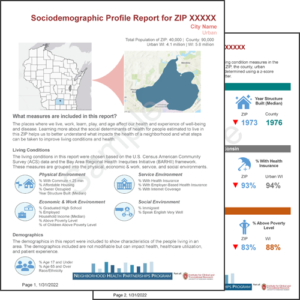 The UW ICTR Neighborhood Health Partnerships Program (NHP) is excited to announce the launch of their latest ZIP code level report, the Sociodemographic Profile Report.
To make sociodemographic information easily accessible and comparable across geographies, NHP has launched a new report that provides information on the social determinants of health at the ZIP code level. This report uses U.S. Census Bureau American Community Survey (ACS) data to provide additional context about living conditions and demographics for most ZIP codes in Wisconsin.
To view a sample report, click here.
To request a report, click here.
To view examples of how to use NHP reports, click here.
If you would like more information or have feedback, contact the NHP Interim Program Director, Lauren Bednarz at lauren.bednarz@wisc.edu.